Review: Virgin Voyages Scarlet Lady Long Weekender

17th August 2021 | Marketing Manager
Trip details – 3 nights roundtrip from Portsmouth, aboard Scarlet Lady
Scarlet Lady is a poser's paradise; a hotbed of relaxation & rejuvenation; a foodie's wet dream; and hands down, one of my all time favourite ships.
Firstly I'd like to thank Virgin Voyages for making me forget about the world of Covid for a full 3 nights! Having been on another ship earlier in the month it was a weird mental adjustment and a welcome surprise to discover that guests were not required to wear masks inside the ship (all staff still did however). Cue instant relaxation!
I'll start with the cabin… we had a Sea Terrace and it's perfect for our needs. We're fairly active, so we're out and about around the ship getting involved, and therefore the cabin is perfect for us… super comfy bed? ✅ vanity area? ✅ decent size balcony? ✅ full length mirror? ✅ clothes hanging space? ✅ roomy shower? ✅ fridge? ✅ drinking water? ✅
In addition to all the "basics" there's also the well thought out tech in the room, from mood lighting and automatic curtains to a TV with movies/series on demand, and cabin services are also just a touch of the tablet away! Out on the terrace is the usual two chairs and drinks table furniture, plus the comfiest hammock I've ever chilled out in! A lot of people look at the hammock as a bit of a gimmick… but I'm guessing those people haven't actually tried it out yet…
I have to point out that I was actually lucky enough to experience Scarlet Lady for roughly 18hrs back in February 2020, and I've been super eager to get back onboard to try out the food again! In particular Extra Virgin – easily my favourite Italian restaurant across all the cruise lines, and the one I haven't stopped raving about the food in ever since! We headed straight there on our first evening. It didn't disappoint… in fact it exceeded my partner's expectations – as did all of the other amazing eateries.
Favourite food?
Extra Virgin – Italian restaurant with a "family style" – Gnocchi (it just melts in your mouth) & the pork cheeks (sooooo tasty!)
The Test Kitchen – a six-course feast of the unknown (aside from the main dish element) – Mushroom starter (3 types of mushroom, delicious), Venison and the chocolate cake (I'm not even going to describe these as it would spoil the surprise!).
The Wake – Steak & Seafood in rather grand (maybe traditional cruise) surroundings – That lemon cheesecake is to die for!!!!
Razzle Dazzle – "Vegetarian-forward" dining – There are some very interesting options on the menu here… certainly some I couldn't have dreamt up, but The Malt Waffles with bacon come highly recommended!
The Galley – Buffet, that's not a buffet… seriously there's a huge amount of choice here, and it's all good! Go to the Well Bread counter in the morning and get the Kouign-amann – they should be illegal!!!
When there are 20+ eateries (all of incredible calibre) included in the cruise fare you should consider stretching your stomach somewhat before stepping aboard; or at least attempting to offset some of that indulgence with a few classes…
The instructors are super friendly, and class sizes are perfect for ensuring that no-one is left behind.
We were determined to work off a few of our meals, so we went for it with classes!
Saturday began with the Bungee Workout (something I've always wanted to try! Soooo much fun, and harder than expected) before breakfast in the Galley. Whilst lunch at the Pizza Place was sustenance for a body weight class known as "The Beast" 😂, that was quickly followed by the VHS 80s Workout in The Manor – Think amazingly nostalgic songs, neon leg warmers, shake sticks, a team of enthusiastically dramatic instructors, major laughs and a chance to "whip it" (even if, like me, you have no rhythm!). Sunday started with a half hour of HIIT at the Training Camp, which meant that I got to use some of the equipment outside, including the boxing ring!
Scarlet Lady genuinely offers so many opportunities to try out something you've maybe seen before but never had the chance to do so…
The ship is simply gorgeous, and you'll always see something new each day, whether it's a different piece of artwork you hadn't previously noticed, surprise story-tellers happening upon you in a bar, or stumbling into a lift with a busker entertaining you on the way to whichever floor is your destination.
Night time onboard is a fabulous affair. Maybe it's just that it was 100% British guests onboard, or maybe it was because we all haven't been out-out in such a long time, that everyone made an effort for both the Scarlet Night and the other two nights. What an absolute joy it was to be enjoying live entertainment, and dancing late into the night surrounded by like-minded people!
Drink prices were about what I expected from a ship that doesn't charge you gratuities at the end of the cruise (so expect the regular cost of the drink plus 15% service charge as a total). The drinks menu is extensive, and varies depending on which bar/restaurant you're in. The wine choices are excellent and the specialty cocktails are divine.
Genuinely so sad to leave the ship again, which just shows how incredible she is. Service was fantastic around the ship, the crew are uber friendly and there's a lot of amazing ink between them all!
Personally I LOVE the pools/hot tubs, and on a hot day in the Caribbean these are going to be packed. The hot tubs are actually hot, and this was very welcome after the efforts in the exercise classes! There may, however, be an accessibility issue in the main pool as it has a high raised platform surrounding it.
Virgin Voyages knock cruising out of the park for me, and I thoroughly look forward to the next time I "set sail the Virgin way".
Don't Miss?
The Loo with a View… it's near the pool is all I'll say 😉
Spending time in your hammock (if you have a terrace!)
Want to experience Virgin Voyages for yourself without the need to fly?
Valiant Lady will be making her debut in Portsmouth in Spring 2022 with some already popular 3-night sailings to Zeebrugge, and some longer roundtrip departures to the Canary Islands & Spain.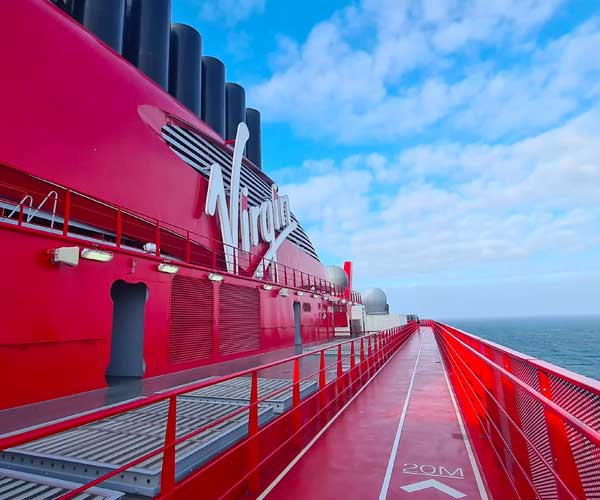 Family Run
A 4th generation, independent family-run business owned and operated by Philip Nuttall.
Protected
ABTA bonded (P6710) & ATOL protected meaning your money is 100% secure for added peace of mind.
Award Winning
Winners of many travel awards for our first class service and customer care! You are our number 1 priority!
Established in 1959
We have been trading for over 60 years and we deal with most major cruise and travel operators!