Beyond luxury is where we set the stage for those who matter the most…
A beachfront, luxury family resort located a short drive from Corfu National Airport & Corfu Town. Surrounded by a lavish forest, combining the green landscape of Corfu with the Emerald Ionian waters and stunning sea views.
Highlights
Fully renovated and transformed for 2021
Unique location; between a forest & the Ionian Sea
Right in front of a unique 100m Wide Shallow Sandy Natural Beach - awarded the best beach of the island
In-resort Activity Park
Family friendly & adult-only swimming pools and designated areas
Bespoke kids club
The CORE: A Conjunction of Refined Experiences in art, play, fashion, culture and gastronomy. An open air agora with Luxury food trucks, shopping outlets and art installations.
4 Restaurants and food outlets & 4 Bars to choose from, Wine Tasting events, Gastronomy Workshops and culinary events organised
Award winning Soma Spa offers rituals of the spa treatments & methods of the ancient Greeks, combined with the most recent healing techniques.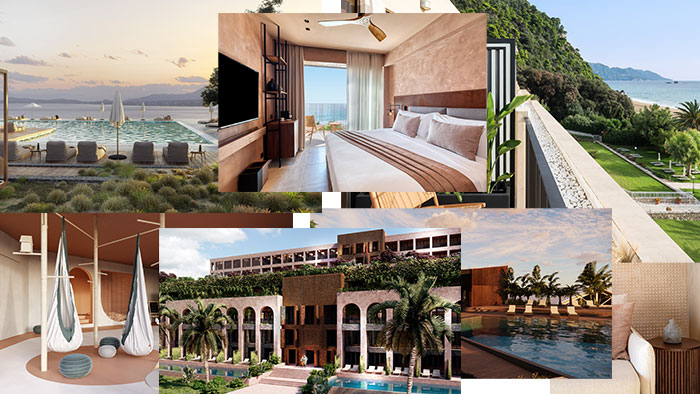 Stunning Accommodation
The 214 rooms that range from lavish suites to well-appointed family rooms were simply created to be lived in by you and yours.

For couples: The Tropical Retreat, Sapphire Retreat, Tropical Open Plan Suite, Horizon Open Plan Suite, Sapphire Open Plan Suite, Tropical Sublime Open Plan Suite, Sapphire Open Plan Suite with Swim Up Pool or the Sapphire Sublime 1 Bedroom Suite.

For families: The Sapphire Sublime Open Plan Suite, Horizon Family Retreat, Sapphire Family Retreat, Sapphire Sublime Family Retreat with Swim Up Poon or the Sapphire Presidental Suite with Captivating Sea Views

The Domes Resorts Haute Living Selection
The VIP Experience, Amplified.
From exceptional food options to indulgent spa treatments and creative children's activities in a fairy-tale setting, Domes of Corfu was not just shaped for demanding guests – it's constantly personalised to your liking. And when it comes to accommodation, we have something special in mind. Found at the intersection of luxury, slow-living simplicity and discreet privacy, our constellation of Haute Living Selection villas and pavilions is an ode to tasteful indulgence.We are no ordinary luxury hotel in Corfu. If you want to feel like a veritable VIP, our most privileged options comprise the Haute Living Selection, for families and couples seeking an immersive experience of laid-back, sophisticated hospitality..
24/7 Dedicated Concierge
Half Board (Breakfast & Dinner)
Premium Toiletries
Farewell Gift
Handpicked Haute Living Accommodation
To immerse yourself in the effortless luxury & exclusive pampering of Haute Living Selection, choose from the following handpicked accommodation options;
Sapphire Presidental Suite, Sapphire Sublime Family Retreat with Swim Up Pool, Sapphire Sublime Family Suite, Tropical Sublime Family Suite, Sapphire Sublime Family Suite, Sapphire Sublime Open Plan Suite with Swim Up Pool, Sapphire Sublime 1 Bedroom Suite or the Tropical Sublime 1 Bedroom Suite.
We Really Care
It's actually true – where else can you book your travel arrangements and receive confirmation with the MD's email address and contact details? Our motto is still – "where customer care comes first!"
We do your API
Yes! Once you have booked your holiday, we will take all the hassle out of your pre- departure information. Simply call in or call us, with your passports in hand and we will complete your API.
We'll Price Match
We'll always do our best to match a price you've been offered. Therefore, you have the best of both worlds - great prices and great customer service from our local team.
Why Book With Us?
We are the only 4th generation family travel agency on the Fylde Coast and in the UK! We employ local people. We are multi award-winning and we want to help you with your travel plans.
Family Run
A 4th generation, independent family-run business owned and operated by Philip Nuttall.
Protected
ABTA bonded (P6710) & ATOL protected meaning your money is 100% secure for added peace of mind.
Award Winning
Winners of many travel awards for our first class service and customer care! You are our number 1 priority!
Established in 1959
We have been trading for over 60 years and we deal with most major cruise and travel operators!